Apr 16:Union Minister for Commerce & Industry and Textiles Shri Piyush Goyal today urged the young NIFT graduates to work towards making India the fashion capital of the world. Addressing the Convocation Ceremony of the National Institute of Fashion Technology, Mumbai, Shri Goyal said Indian designers and artists have the skill sets and innovative ideas. He added that Indian designers including NIFT graduates are doing phenomenal work globally.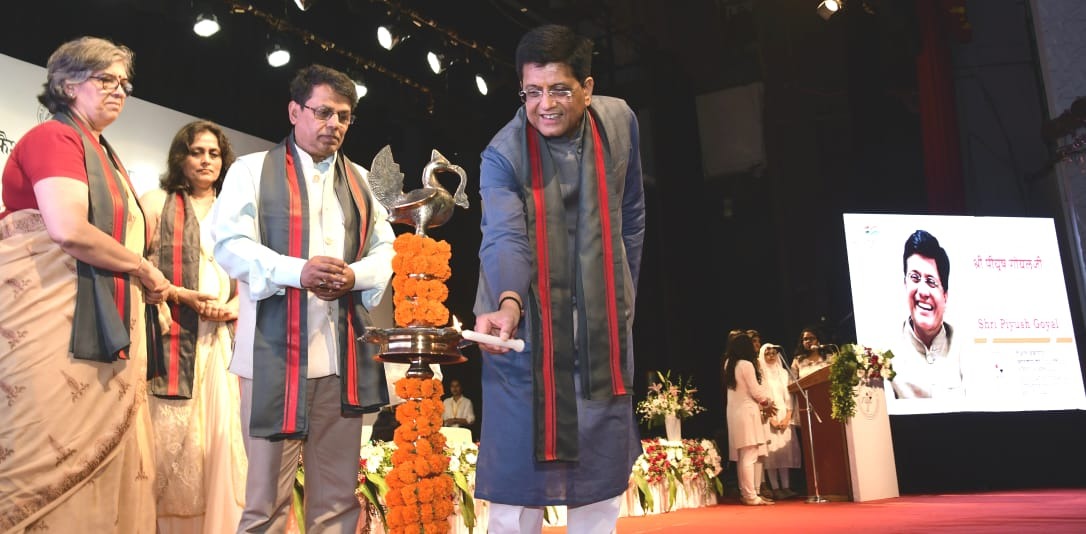 Exhorting the graduating students, Union Minister Shri Goyal said, "Each one of you is a dreamer; you come up with new ideas, new designs, and new concepts". Citing the example of local Kolhapuri chappals and Paithani saris, Union Minister further said "the traditional Indian arts and handicrafts have the capability to become global fashion trends".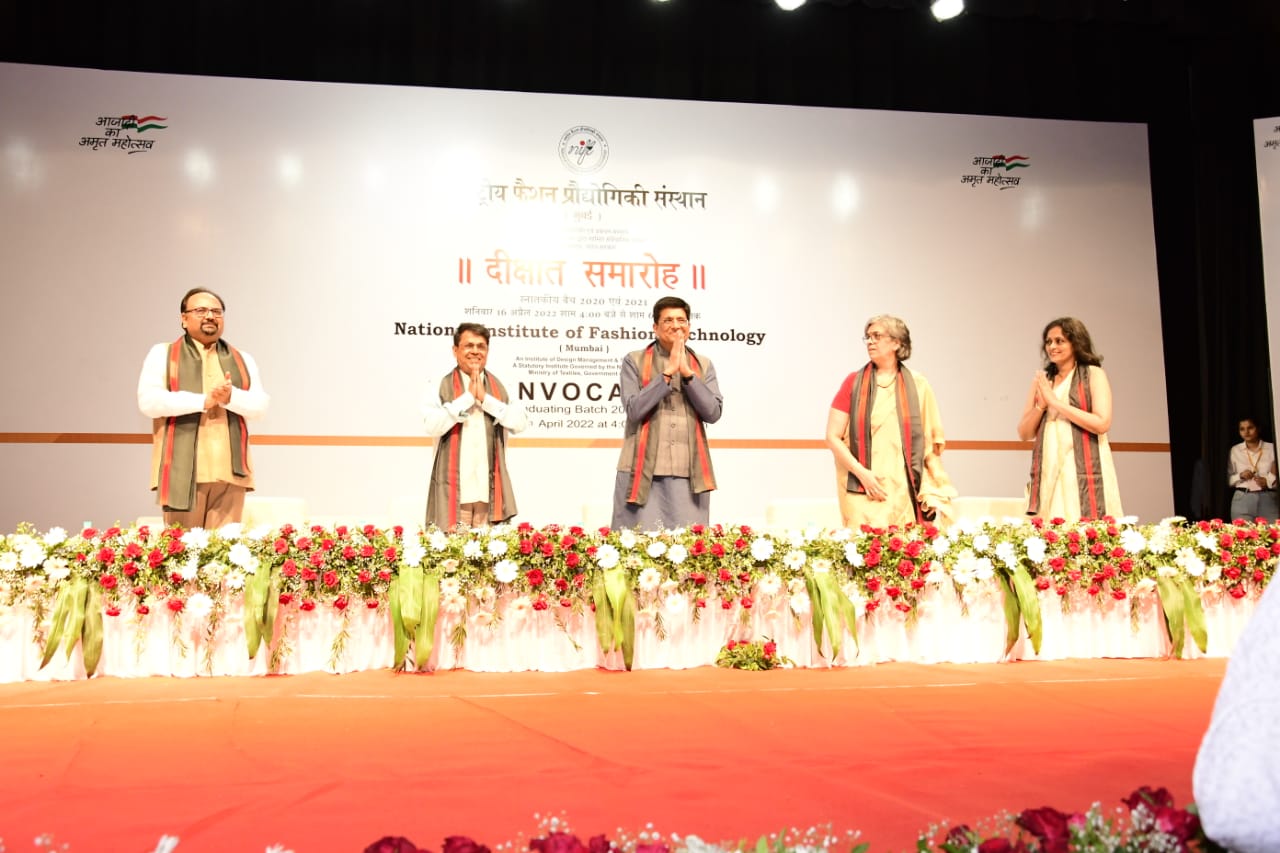 Shri Goyal said, "As students of design, each one of you represents a deep sensitivity. It will be showcased in the quality of your work and how you treat your workmen, weavers and ensure that they get a fair value for their work". The Minister said that the expectation from NIFT graduates is to maintain high standards and ethics.
Lauding the talent of the NIFT students, the Textiles Minister said many of the NIFT graduates would soon start designing for Bollywood.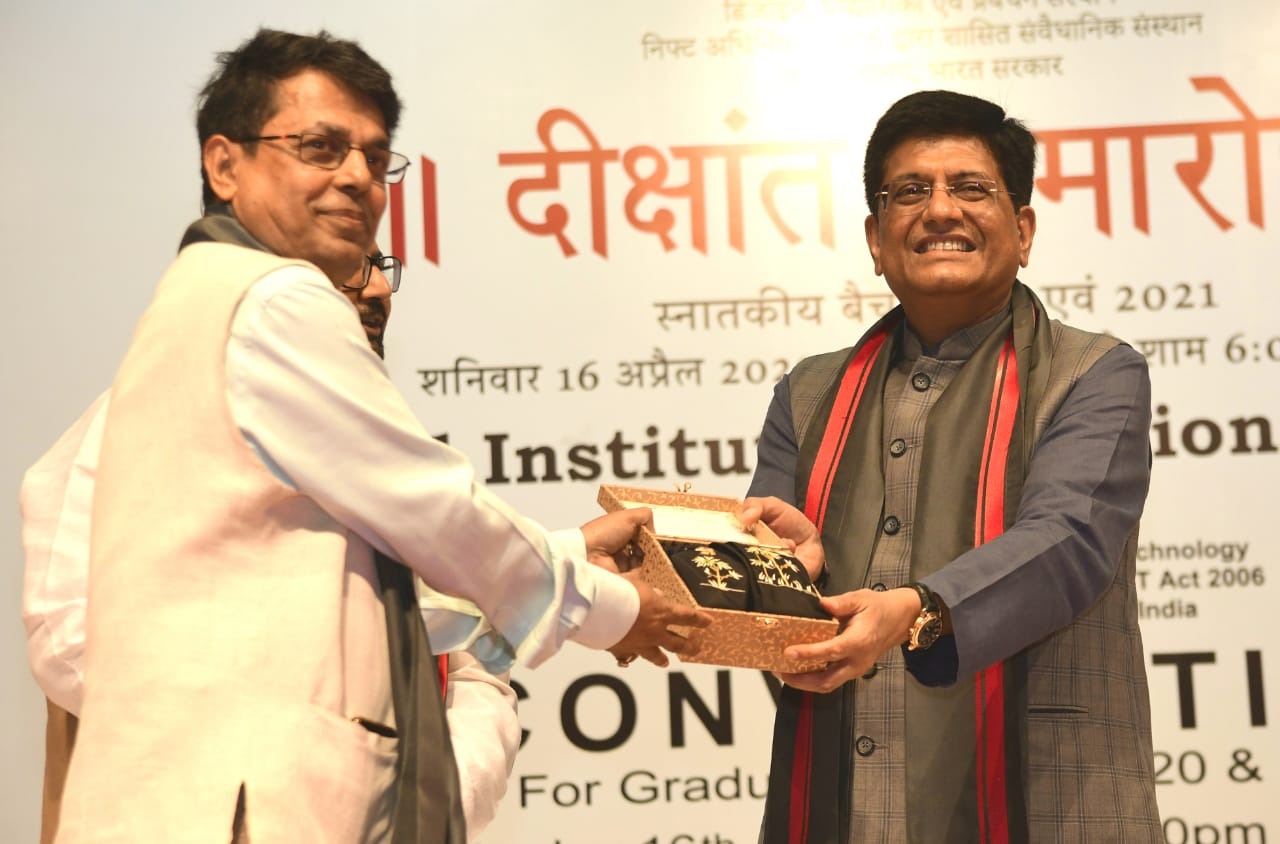 Union Minister Shri Goyal observed that the Bachelors of Fashion Technology, Master of Fashion Technology, and Masters of Fashion Management have been recognized by the UGC. He said, "UGC recognized technical degrees will help you to get better opportunities for higher studies across the world". Uniformed standardization of all courses will help to increase the educational value for the students, he added.

Shri Goya appealed to students to give back to their alma mater and the nation. He informed us that the NIFT was going to start certificate courses for handloom weavers, handicraft artisans, and others. He requested students to help the institution in designing the courses and mentoring the artists. He said, "Do consider giving back to those who do not get a chance of a high-quality education". "Maybe adopt a cluster of weavers, consider up-skilling your workmen, educate them to do better work, help them improve their income by better designs, packaging, marketing, branding", he added. 
Degrees were awarded to 627 students who completed the course in 2020 and 2021. Students who excelled in various courses were honored with medals, certificates, and prizes.
Disclaimer: We donot claim that the images used as part of the news published are always owned by us. From time to time, we use images sourced as part of news or any related images or representations. Kindly take a look at our image usage policy on how we select the image that are used as part of the news.