Jun 20: Union Minister of Textiles, Commerce & Industry and Consumer Affairs, Food & Public Distribution, Shri Piyush Goyal inaugurated the 67th India International Garment Fair (IIGF) at IEML, Greater Noida today.
Shri Mahesh Sharma, Member of Parliament, Chairman AEPC Shri Naren Goenka, Shri Lalit Thukral, Chairman, IGFA, Shri Raj Kumar Malhotra, Chairman, EPCH, exhibitors and international buyers were also present at the event.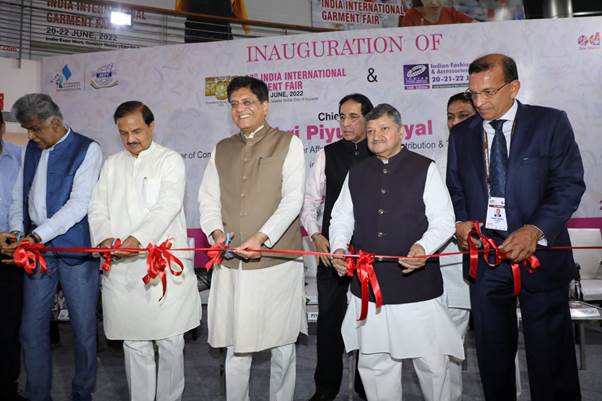 Delivering his inaugural address Shri Piyush Goyal, Minister of Textiles said, "I am amazed to see the size and scale of the apparel industry in Noida. I am told that 10 lakh people have engaged in this 35 crores industries.  I compliment all of you for your good work.  Together we have to take this industry from the current to the next level. Apparel, Fashion Jewellery, and MICE are three industries where India has to grow."
Further, Shri Goyal said that he has set a modest target for the apparel sector which is to double the production and triple the exports. So this 15% growth is achievable.  Today, the Government is helping the industry which cheaper credit, loans in foreign currency, building the cluster for infra development, RoDTEP, and ROSL for tax reimbursement, etc., and most important providing better law and order for carrying forward business smoothly.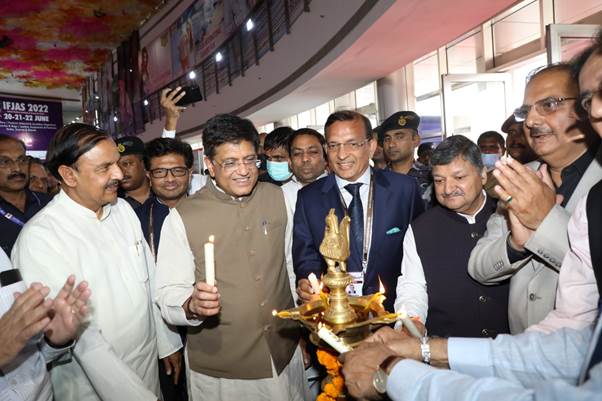 India at WTO has taken the leadership role in becoming the voice marginalize and developing nations the entire world has seen this because of India's stand, WTO and multilateralism became relevant again this was possible because of our efforts and the support of other nations, Minister added.
Further Textiles Minister said, "All countries are eager to make friends with India, as we offer huge opportunity and promise.  We are moving ahead on FTA with Canada, the EU, and the UK. Australia, Even GCC, and Israel along with Eurasia and Brazil have shown their interest to forge FTA with India.  I am hopeful that by Diwali, India-UK FTA will be concluded."
Shri Naren Goenka, Chairman of AEPC delivering his inaugural address said, "IIGF provides a direct marketing platform to MSME exporters from across the country bringing together almost 500 exhibitors and more than 2000 overseas buyers and buying agents. It is the biggest platform in Asia under one roof wherein Micro, Small, and Medium Enterprises (MSME) showcase the latest garment and fashion accessories trends to the world and begin the order booking process." 1189 international buyers from 59 countries have registered to participate in the 67th IIGF.  The buyers are visiting from the USA, Brazil, Japan, UK, Spain, Australia, Poland, Colombia, Greece, Italy, Egypt, Chile, Argentina, UAE, Thailand, France, Germany, Canada, Iran, etc."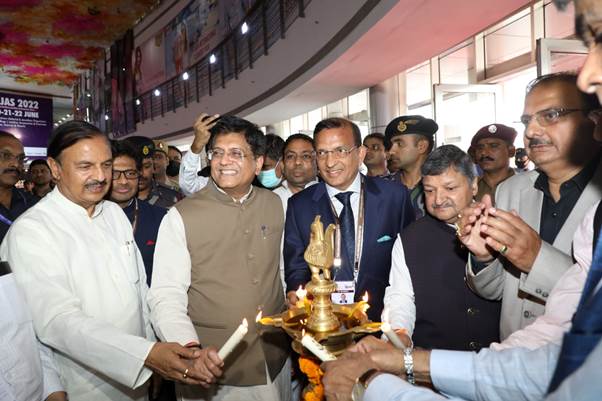 Shri Goenka further said, "In the last physical fair held in January 2020, the business generated was US$ 166.17 million.  We are expecting a growth of 10% even though adverse marketing conditions are prevailing in various countries."
Expressing his optimism on the apparel sector, Chairman AEPC said, "The global apparel market which was just under 1.5trillion USD in 2013 is expected to generate revenues to the tune of 1.8trillion USD in 2022 and 1.9trillion in 2025 before it closes to 2 trillion in 2026. India offers to the world a complete value chain solution from farm to fashion giving us a competitive edge by shortened lead times to reach our buyers."
We can assure them that the Brand India products are sustainable and meet all social and environmental compliances as per the import requirements of their countries. Council is taking rigorous efforts towards promoting Brand India on various global platforms showcasing its strength in sustainability, circularity, ethical sourcing, manufacturing, labor standards, and women's employment with no child labor, Chairman AEPC added.
AEPC has put up a stall wherein various start-ups will be showcasing their innovative and path-breaking efforts in the textiles and garment sector. India is rising high in the global innovation index and there are about 600 textiles start-ups in India. I am sure the PLI scheme will surely be a window to the investment flow into India and thrust exports of MMF apparel and Technical Textiles along with scaling their production to match global demand, Chairman AEPC informed.
Shri Goenka also thanked the Government for taking numerous path-breaking policy initiatives to increase apparel exports from India including the extension of the ROSCT. PM-MITRA scheme towards setting integrated textile parks. Finally, recently signed FTAs will give an immense boost towards product and market diversification to the existing basket of Indian Apparel.
***
Disclaimer: We donot claim that the images used as part of the news published are always owned by us. From time to time, we use images sourced as part of news or any related images or representations. Kindly take a look at our image usage policy on how we select the image that are used as part of the news.