Jun 17: Indian Customs has seized a total of 7,10,000 nos. sticks of foreign origin cigarettes with brand 'Djarum Black' valuing at around Rs 1 crore here today.
Apart from these foreign origin packets of Indian brand cigarettes containing a total of 30,21,500 nos. sticks were also found. These brands were 'Gold Flame, Gold Clock, Flame, Fun Gold, Impression, Pelicans, and Gold Fighter'.

No documents could be shown by the owner of the goods about the procurement of such goods. The owner of the goods, who got the premises hired, has been apprehended. Further enquiry is on.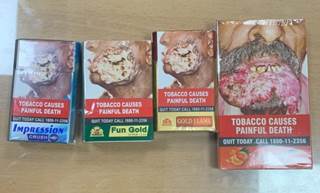 The Chief Commissioner of Delhi Customs (Preventive), Mr. Surjit Bhujabal, I.R.S. said that "there is zero tolerance in respect of smuggling of cigarettes into the country. Further strict measures are being followed in respect of provisions under the Cigarettes and other Tobacco Products (prohibition of advertisement and regulation of trade and commerce, production, supply, and distribution) Act, 2003. Smuggling has a deleterious impact on our economy."
Indian Customs has been making continuous efforts for combating the illegal smuggling of cigarettes into India. The officers of Delhi Customs Preventive commissioner, on receiving a specific intelligence about unlawful storage of prohibited Cigarettes of Foreign Brand and also the illicit supply of country-made Cigarettes without payment of GST, the officers Delhi Customs Preventive searched the Godown premises at an Industrial Area in Delhi.
Smuggling of Cigarettes involves the illicit transportation of it between Continents, Countries, and Provinces via air or sea transport, usually with the aim of circumventing taxes and other restrictions on Imports and Exports. This enables smugglers to re-sell this item at a reduced price and/or recuperate the cost that would typically be paid to the state in the form of customs duty.
Presently, more than 100 International smuggled cigarette brands are flooding the Indian market from all over the globe. The smuggled cigarettes are approximately 5 times cheaper than the duty-paid cigarettes. E.g. legally duty-paid cigarettes would cost Rs. 330 per ten cigarettes and smuggled cigarettes would cost Rs.60 or 80/- per ten cigarettes.
Delhi Customs Preventive has been doing Ernest effort to stop a illegal import of a single cigarette into India. The details of seizers made during the last two years are given below
Almost every day Enforcement authorities in India are making seizures of such unlawful cigarettes in the country. Details of foreign brands of cigarettes smuggled into India are given as-
| | | | |
| --- | --- | --- | --- |
| S. No. | Smuggled brands available in India | Name & Address of manufacturer | Country |
| 1. | Win, etc. | Hongyunhonghe Tobacco181 Hongjin Road, Kunming 650202 China | China |
| 2. | Gudang Garam | P.T. Surya MadistrindoHO-JI. Jend. Ahmad Yani 75-79 Jakarta Pusat, 10510 Indonesia | Indonesia |
| 3. | Black | PT Djarum28 JI, Ahmad Yani Kudus, 59317 Indonesia | Indonesia |
| 4. | Pine, Esse, etc. | KT & G71, Beotkkot-gil, Daedeokgu, Daejeon Republic of korea | South Korea |
| 5. | Mond, etc. | Gulbahar Tobacco International Fze.Gulbahar groupP.O. Box. 61401-Mod. 447/448, R/A No. 13-Jebel Ali Free Zone, Dubai-United Arab Emirates | UAE |
Apart from the above Delhi Customs Preventive Commissionerate has handed over seizures of manufacturing fake/counterfeit Indian origin cigarettes to CGST authorities. The details are given below-
| | |
| --- | --- |
| Date of seizure | Qty of Cigarettes (No. in Lakhs) |
| 27.12.2021 | 110 |
| 07.03.2022 | 3.07 |
Social Impact and its Counter:
It may be noted that the smuggling activities are a criminal offense and disobeys various Indian laws including Customs Act, GST laws, COFESPOSA, LMA, etc., and attract severe penal punishment.
Obviously, smoking is hazardous to health but consumption of smuggled cigarettes may be more drastic since such cigarettes do not carry health warnings in terms of Cigarettes and Other Tobacco Products Act (COPTA Act) and may be prepared with substandard/toxic ingredients i.e. dust, etc.
Indian Law Enforcer i.e. Police, local administration within respective jurisdiction may be sensitized to report any incident of sale of such foreign-made cigarettes to nearby Customs/GST office immediately. The staff of respective COIN formation may be requested to provide due assistance in unearthing the possible role of overseas manufacturers of cigarettes which are also involved in smuggling of the same into India.
Mr. SK Rahman, Principal Commissioner of Delhi Customs (Preventive) said that our department is always alert and takes immediate action on any kind of information. The constant vigil is being kept towards protecting our economic sphere and also on the matters relating to tax evasion and preventing violation of the Customs Act.
****
Disclaimer: We donot claim that the images used as part of the news published are always owned by us. From time to time, we use images sourced as part of news or any related images or representations. Kindly take a look at our image usage policy on how we select the image that are used as part of the news.