May 15:The meeting of the Hindi Advisory Committee of the Ministry of Heavy Industries was held today at Gangtok.  Dr. Mahendra Nath Pandey, Union Minister of Heavy Industries presided over the meeting.
Speaking on the occasion,  Shri Pandey appealed for linguistic self-reliance on the lines of the Prime Minister's self-reliant India and said that Hindi needs to be increased keeping respect for all regional languages. The Minister said that he is accepting files only in Hindi in his office.
He also described the selection of Sikkim for the first meeting of the committee as very important and symbolic.  His suggestion that the tradition of inviting members of the Parliamentary Official Language Committee and Hindi Salahkar Samiti should be started especially during Hindi fortnight was warmly welcomed.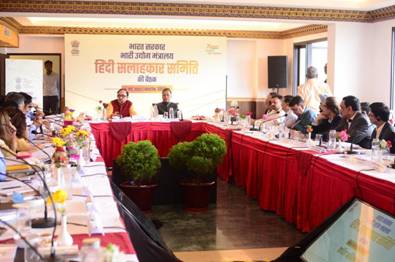 Rajya Sabha MP Ms. Seema Dwivedi and Lok Sabha MP (Bulandshahar) Shri Bhola Singh were also present at the meeting. Secretary  Ministry of Heavy Industries,  Shri Arun Goyal, Joint Secretary Shri Vijay Mittal, Director Shri Rajnesh Singh, and Vikas Dogra was present from the Ministry.
Members of the committee included the learned non-official members of Hindi, Prof. Puran Chand Tandon (University of Delhi), Prof. Okean LEGO (Rajiv Gandhi University, Arunachal Pradesh), Dr. Santram Vaish (Retired Professor of Hindi, Gurukul Kandi University) and Dr. Bandana Pandey (Gautam Buddha University, Noida).
Shri Bhola Singh raised the issue of excessive use of English words in the presentation of some companies.  Pro.  Tandon drew attention to the vacancies of directors in five major Hindi institutions of the Centre.  The Minister said that he would write a letter to the Home Minister regarding this.
Hindi Salahkar Samiti is a committee constituted in each ministry of the central government to promote official work in Hindi, which has a provision of holding at least two meetings in a year. The meeting held in Gangtok on May 15 was the first meeting of the reconstituted committee of the ministry.
****
Disclaimer: We donot claim that the images used as part of the news published are always owned by us. From time to time, we use images sourced as part of news or any related images or representations. Kindly take a look at our image usage policy on how we select the image that are used as part of the news.