Apr 18: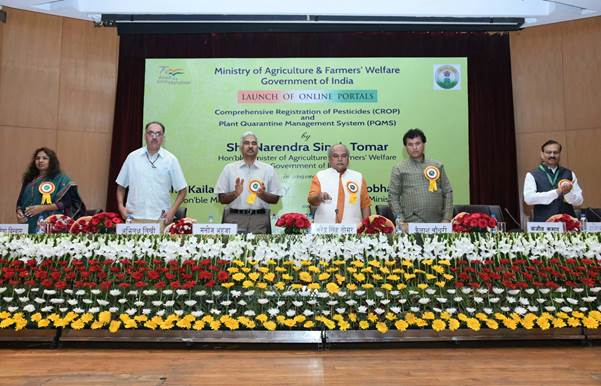 Union Minister for Agriculture and Farmers' Welfare Shri Narendra Singh Tomar today launched two portals, one for the Computerized Registration of pesticide (CROP) and the other for the Plant Quarantine Information System (PQIS). Speaking on the occasion the Minister said, keeping in mind the Prime Minister's vision for the Agriculture sector these two portals have been launched and would help in taking forward digital Agriculture and Ease of doing business. Shri Tomar expressed happiness stating that Agriculture Exports have taken a great leap forward.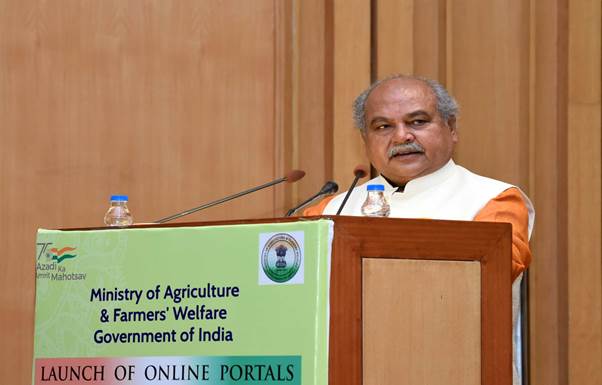 Union Minister of State for Agriculture and Farmers' Welfare Shri Kailash Chaudhary said that the Prime Minister's emphasis on technology will lead to further development of the Agriculture sector. The new portals will benefit farmers, exporters as well as industrialists.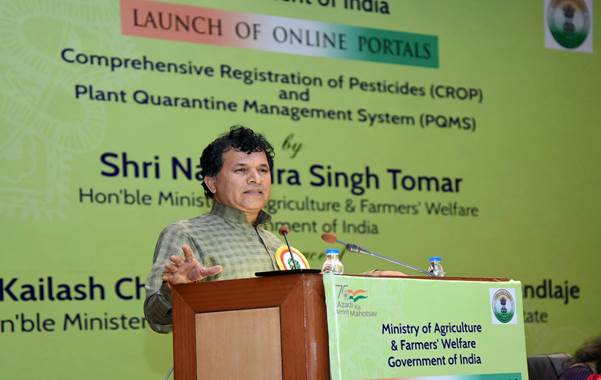 Department of Agriculture and Farmers Welfare (DAFW), Ministry of Agriculture and Farmers Welfare, through the Directorate of Plant Protection, Quarantine & Storage (DPPQS), Faridabad has been catering to Indian exporters and importers of agriculture commodities and the Indian Pesticide Industry, through its two portals namely, Computerized Registration of pesticide (CROP) and Plant Quarantine Information System (PQIS). Realizing the need for quicker disposal of applications related to export/import of agricultural commodities and pesticides registration, a more coordinated integration with external systems and stakeholders, and to bring in greater transparency in the existing online system, DAFW today launched two redeveloped online portals.
The PQMS portal will provide a transparent system with no physical touchpoints for the applicants and ensure convenience to the users, through the online system including e-payments and uploading of documents, online accreditation, renewal of treatment agencies/facilities, and downloading of certificates. Similarly, the re-developed CROP portal will immensely help in ease of doing business and provide greater and timely Crop protection solutions to farmers of the country.
DAFW had engaged CGG, Hyderabad for design, development, technical support maintenance, and hosting of seamlessly integrated e-Governance solution for Plant Quarantine Management System (PQMS) on new technology platform and also for hosting of e-Governance solutions of redeveloped Comprehensive Registration of Pesticides (CROP).
SPRAY OF PESTICIDES USING DRONES
In line with the vision of the Prime Minister for promoting drone technology and its use in India and to facilitate the use of Kisan drones, as announced in budget document 2022-23; the Department in consultation with all the stakeholders of this sector has brought out Standard Operating Procedures (SOPs) for use of drones in pesticide and nutrient application that provide precise instructions for effective and safe operations of drones. As part of continuing efforts to make drone technologies reach all farmers, the Ministry has issued orders today granting an interim approval for the spray of nearly all the registered pesticides formulations using drones. These pesticide formulations are those whose safety and efficacy have already been evaluated on different crops and are already being used in the country using other methods. The application of pesticides using drones will not only make it easier for farmers to efficiently protect plants from pests but will also eventually help in increasing their incomes through reduced input costs.
Among those who graced the occasion were MoS Agriculture Shri Kailash Chaudhary, Agriculture Secretary Shri Manoj Ahuja, senior officials of the Agriculture Ministry, DG, Centre for Good Governance Shri Rajendra Nimje, ICAR Scientists, Representatives from the States, Industries, and Farmers' Organisations.
****
Disclaimer: We donot claim that the images used as part of the news published are always owned by us. From time to time, we use images sourced as part of news or any related images or representations. Kindly take a look at our image usage policy on how we select the image that are used as part of the news.